IFDA Distribution Solutions Conference

The IFDA Distribution Solutions Conference is all about helping foodservice operations management work smarter, better, and faster! This conference provides resources and insights to improve your operations, addresses key people issues, and helps you get your head around the latest best practices and technologies.
When: October 27 – 29, 2019
Where: Orange County Convention Center, Orlando, FL
Booth#: 257
Website: www.ifdaonline.org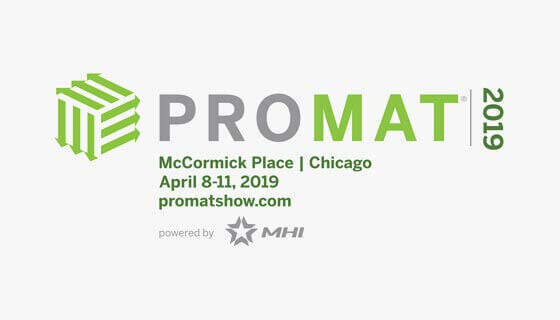 Discover the latest solutions to move your business forward as the industry's leading innovators showcase their latest manufacturing, distribution and supply chain equipment, and systems at ProMat 2019 held April 8-11 at Chicago's McCormick Place.
ProMat is where manufacturing and supply chain professionals come to find their supply chain WOW – that trend or technology that will take their supply chain to the next level of success. It's the perfect opportunity to stand out, differentiate your company, multiply your contacts, and grow face-to-face relationships.
Global Cold Chain Alliance Expo
The Global Cold Chain Expo is the one-stop-shop for innovation, education and business-to-business networking for the global food industry cold chain – from producer to consumer. The Global Cold Chain Expo features a cutting edge exposition of the tools, technologies and services needed by all partners throughout the cold chain, and an educational conference bringing together innovators and experts with senior management and rising managers from all sectors of the industry. Together, the expo and conference create the most valuable business-to-business networking event serving the global cold chain.
When: June 10 – 12, 2019
Where: McCormick Place, Chicago, IL
Booth #: 25017
Website: www.gcca.org
Let us know the shows you will be at so we can say hello!