The following is the general Smart Slotting process between Storage Solutions and a customer:
Data provided to SSI; data converted into requirements and validated
Analyze and develop existing facility and operational data
Map current state inventory and storage locations
Perform Smart Slotting Analysis
Develop opportunities for storage re-slotting
Present and review business case from re-slotting inventory, changing storage mediums, or optimizing pick process
Apply necessary revisions to storage mediums to achieve operational cost savings
Data information required is dependent on the scope and goal of the customer's needs. Ample data must be obtained to make data-driven decisions. The more data and the more accurate the data, the more efficient the model will be for the given facility.
A general list of data and items for Smart Slotting to be provided to SSI:
AutoCAD or PDF format drawing of existing facility layout
SKU Item File/SKU Item Master – data to include but not limited to SKU unit dimensions, unit weight, units per container, units per pallet, container dimensions, and pallet dimensions
Demand – Order Line Item/Order Data – data to include but not limited to the following order demand characteristics at the line item level: order number, order data or order count, SKU number, quantity ordered, and quantity shipped
AND/OR
Demand – On-Hand Inventory Snapshots – snapshots of daily inventory on hand for timeframe that there is available data for; the more snapshots the better. This data to include but not limited to on-hand SKU inventory unit quantity, case quantity, pallet quantity, SKU number, and dates of snapshots
Operational Data – Operational data that reflects the activity in the facility to include but not limited to: standard labor rate, hours per shift, shifts per day, overtime percent, facility space cost per square unit, work days per year, growth rates, current process flows, facility footprint, and replenishment times
Slotted Locations Extract – data to include but not limited to SKU number, zone code, bin/location code, shelf number, selling units of SKU slotted in given location
Available Locations Extract – storage medium, zone code, bin group code, bin code, shelf code, and location dimensions
Data templates can be provided for the SKU Item, Order Line Item, On-Hand Inventory, Slotted Locations, and Available Locations files. In our case study, the customer kept decent facility data and was able to provide pertinent information in our data templates for Smart Slotting.
For the simplification of our case study, a fully burdened labor cost of $35.00 per hour was used. The facility operated on two 8-hour shifts with 40 employees per shift. They had four different types of storage locations for SKUs to be slotted to.
After receiving the customer data, it was qualified, appropriately adjusted, and used for Smart Slotting.
As a direct result of our Smart Slotting project, the customer achieved an increase in storage space utilization, increased pick efficiency, an increase in slottable SKU items, and a decrease in daily labor cost.
Utilization of storage locations rose from 20% before Smart Slotting to 91% after Smart Slotting, all while decreasing the number of storage medium types.
As mentioned, the customer initially had four different types of storage mediums:
32x15x22 Shelving
32x15x44 Shelving
32x40x52 Pallet Rack
Bulk floor locations
After Smart Slotting, we were able to implement just two types of storage media:
32x22x22 Pallet Shelving
44x44x40 Pallet Rack, with unique bin integration for a 91% space efficiency.
Technology designed for the stored items is simply more efficient and, in this case, simple.
The storage footprint decreased from just under 140,000 sq. ft. to a 97,008 sq. ft. footprint after Smart Slotting. The 97,008 sq. ft. re-designed storage footprint includes a 15% growth factor so that the customer is far from reaching their facility capacity. Pick efficiency increased due to the optimization of SKU placement, smaller storage footprint, and thus a decrease in pick path distance.
With a decrease in time to pick a day's worth of orders, labor cost and number of employees needed per shift decreased. Number of employees per 8-hour shift decreased from 40 to 35 with an increase in throughput ability. Additionally, the daily labor cost decreased from $21,033.00 per day to $18,496.00 per day conservatively. Using the initial customer storage mediums, 1,705 SKUs were in overflow floor space. After Smart Slotting, all SKUs were slotted to locations.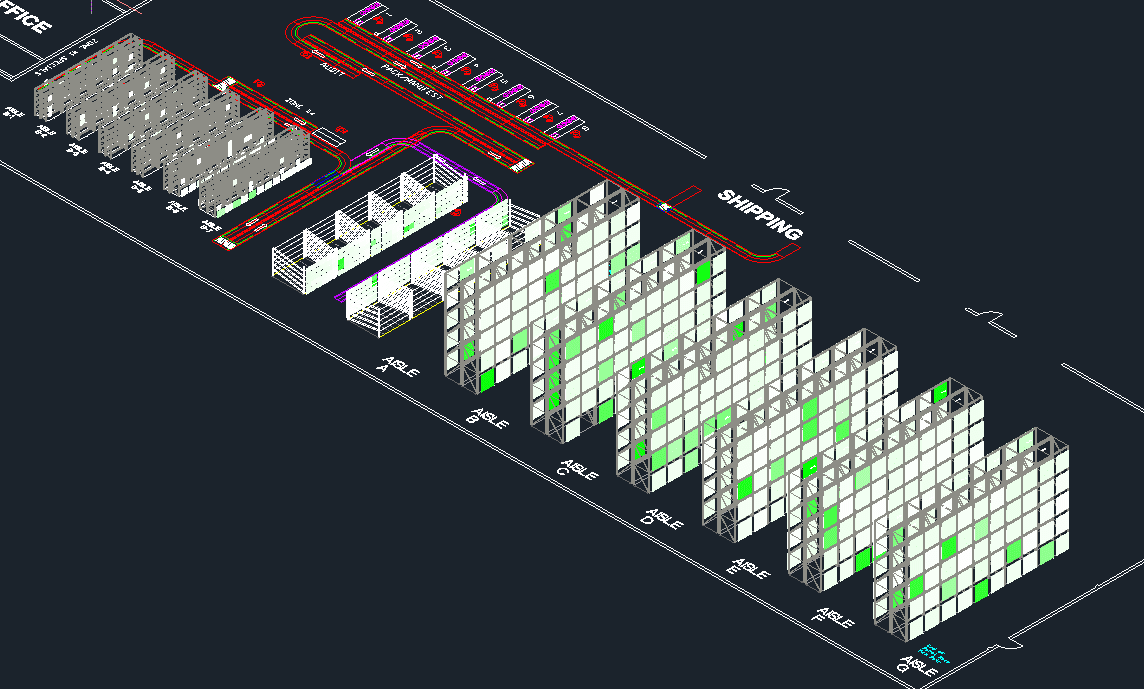 Smart Slotting was able to fulfill the customer's three main objectives of improving storage and facility space utilization, reducing labor cost, and replacing existing storage media with something that fit their unique SKU base. Completing the Smart Slotting project and completing these goals provided the customer an increase in productivity, an increase in storage capacity, and reduced operating costs through increased throughput.
With 21% of the facility's floor space opened due to storage space consolidation, a wide range of opportunities arise for the customer to make decisions on potentially bringing new business into the facility, further increasing the return on investment and scope of facility operations.
With a lower number of employees necessary to pick and replenish the storage area, labor savings will compound over time for the customer. Risk of injury to workers is also lowered with fewer dynamic components and less ground to cover.
After Smart Slotting, the storage mediums in the customer facility fit their SKUs like a glove, and there is still space for at a minimum 5 years of product storage growth.