Here we are with week number three for Project Ohio in our Project Spotlight Series.  This week we are focusing on what Storage Solutions installation crew members have installed in this facility.
PROJECT OHIO Installation Details: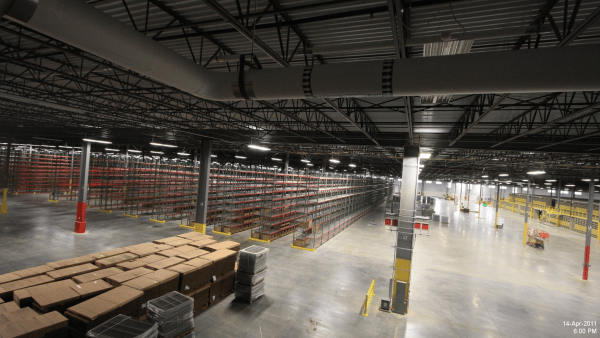 6,021 inside selective pallet rack bays

All bays incorporating new and used materials
Approximately 116,000 pallet rack locations provided
Over 90,000 pallet rack beams and wire decks installed (90,000 of each, 180,000 combined)
400 cantilever columns installed
Over 8,500 cantilever arms
Interior racking area footprint > 450,000 Sq Ft.

246 outside selective rack bays
Over 2,200 bin sections in two-level mezzanine

Bin mezzanine footprint nearly 45,000 sq ft.
Supports installed for 3rd level expansion when necessary
Lighting and sprinkler provided in bins area
2 VRC lifts installed
3 stairs
Approximately 14,000 sq ft of Resindek and RoofDeck installed for walking

1.086 million sq ft building
We have made a lot of progress from the first Project Ohio post, week two, and now.  Check back next week for our final Project Ohio post for time-lapse video that will take you from start to finish!
/wp-content/uploads/2019/12/Horizontal-Logo_ColorOnTransparent.png
0
0
Storage Solutions
/wp-content/uploads/2019/12/Horizontal-Logo_ColorOnTransparent.png
Storage Solutions
2011-09-07 19:50:00
2017-05-18 22:17:22
Storage Solutions Project Spotlight: Ohio – Week 3